Imagine having the ability to thoroughly scrutinize a product before buying and that too without leaving your home? Yes, it is possible using 3D visualization. This novel e-commerce drift is the link between physical shops and online retailers – and goes even further than that. The question that arises here is how does it work, and in what ways will this new technology outline the digital market?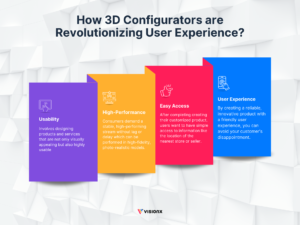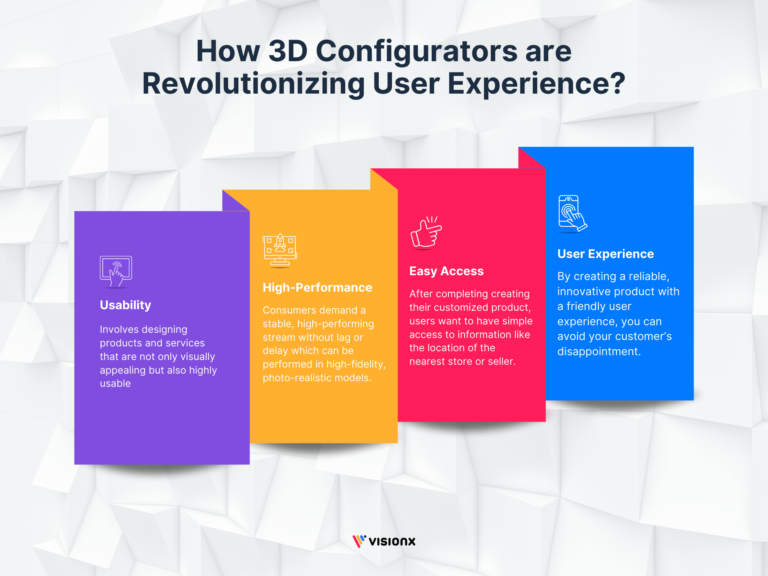 A New Era in E-commerce
E-commerce is an ever-changing souk. Due to the implausible data flow offered by the internet, the revolution is endless, and with time new trends are popping up regularly. In the current time, it is challenging to keep up and distinguish between what is worth your time and what is just a short-living view. Most of the experts agree and believe that one of the most exciting and promising drifts within digital commerce is the 3D product configurator.
As the name suggests, 3D product visualization is the building of three-dimensional models of products. Clients are no longer bound to stick to the images and rely on them to purchase. With the help of 3D technology, it is now possible to examine a product from every position at every time of the day.
As COVID-19 has changed the recent shopping trends, 3D visualization offers the client a way to shop from home without the hassle of limited opening hours and the risk of infection. At the same time, they are still profiting off the advantages of "try-before-you-buy." Consumers currently want a curated, directed buying process that will match their needs, tastes, and style while providing them with the information they need about price, performance, and value. They want to know what a product will look like before committing to a purchase.
Creating Successful User Experiences
Although 3D configurators are composed to create exciting changes in the way we buy, it will not matter how impressive the technology is if it is unreliable. It is vital to engage your customer with the brand and design of the product. By creating a reliable, innovative product with a friendly user experience, you can avoid your customer's disappointment.
Consumers expect to access 3D configurators from any online device without the hassle of downloading anything or using a massive virtual reality headset. They demand a stable, high-performing stream without lag or delay. It is expected to be performed in high-fidelity, photo-realistic models. It can be a lot to give when dealing with heavy data, graphic-intensive 3D applications, and significant traffic. Usability is also crucial when consumers are ready to buy.
Consumers want the prospect to speak with a sales representative or design expert online as they are configuring their 3D assets in real-time. Furthermore, once they have completed creating their customized product, they want to have simple access to information like the location of the nearest store or seller.
We are yet in the initial stages of what is attainable with interactive 3D configuration. Different industries like automotive, manufacturing, fashion, and architecture are leading the way. Besides, 3D interactive streaming will require much training for those who want to use it in their retailing plans. The technology is complicated and can be challenging to set up to guarantee an optimal user experience. The price of performing this technology can be restrictive for some, and brands using 3D configurators will need to answer questions concerning scalability.
Interactive 3D experiences will become frequently widespread as consumers combine their love of gaming with shopping. The e-commerce experience must be more than simply comfortable; it should also be personal for consumers and amaze them in unique and compelling ways.
How are we Using 3D Configurators to Improve the User Experience?
VisionX has turned real-time 3D shopping into a fun experience as consumers design their room using photo-real interactive models within an immersive environment. Our virtual reality-based solution allows the user to interact with the Staples furniture. It enables consumers to place the product anywhere in the showroom, interact with it, and add it into the cart. It improves the customer's experience considerably: shifting between different colors and models becomes more accessible than ever. Where shop assistants had to bring other models and colors from the storage, it is now merely a swipe away.
Our loop magazine app is another excellent example of a 3D app that puts customers in the designer's seat — but this one lets buyers fully design their room. Starting with floor scanning, customers can place anything anywhere, everything, inside the room. All they have to do is scan the magazine for the 3D models and place them anywhere.
It is easy to see how a person could lose half an hour (or even half a day) exploring all the options. Customers are spending more time interacting with our brands that allow immersive 3D environments to participate. Designing an ultra-realistic, 3D digital model that enables users to configure an object to their designations is not just engaging, though — it is encouraging. Moreover, it is something many customers have grown customary to do.
Consumers can not only configure their next home, but they can also thoroughly visualize the experience of enjoying them in immersive environments. Further interaction with the product is also in play, like sharing your item on social media. Profoundly immersive, interactive experiences will grow as businesses see their potential for an adequate return on investment. As 3D configurators become more prevailing and available on any – consumer interest will cultivate interactive 3D buying experiences. The opportunities are endless.