Surgical modification has thoroughly transformed the way of surgery. Surgical exploration has become necessary for surgeons to carefully and securely perform precision surgery. The 3D organ modeling based on individual patients' medical image data is needed for simulation, exploration, and learning for reliable and safe operation. Thus, Mixed Reality plays a significant role in orderly scenting a tremendous amount of radiological image data.
The polygon data in the form of organs have already been put into possible use for surgical simulation and exploration using extended Reality, including Virtual Reality, Augmented Reality, Mixed Reality, 3D-printing and ai in surgery. Machine learning with artificial intelligence may enhance the efficiency of surgeries. System integration has also been proposed to make it possible to control many devices in the operating room from an individual controller.
Moreover, the progression of robotic technology has enabled surgeons to manage therapeutic devices accurately. Nevertheless, the discovery has not been ultimately achieved. Researchers are reaching new discoveries of surgeries with help of introducting ai in surgery. Virtual Reality and Augmented Reality are becoming crucial means in medical and surgical procedures.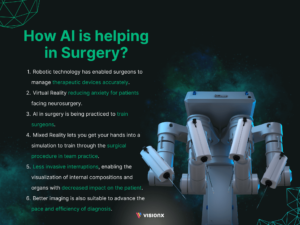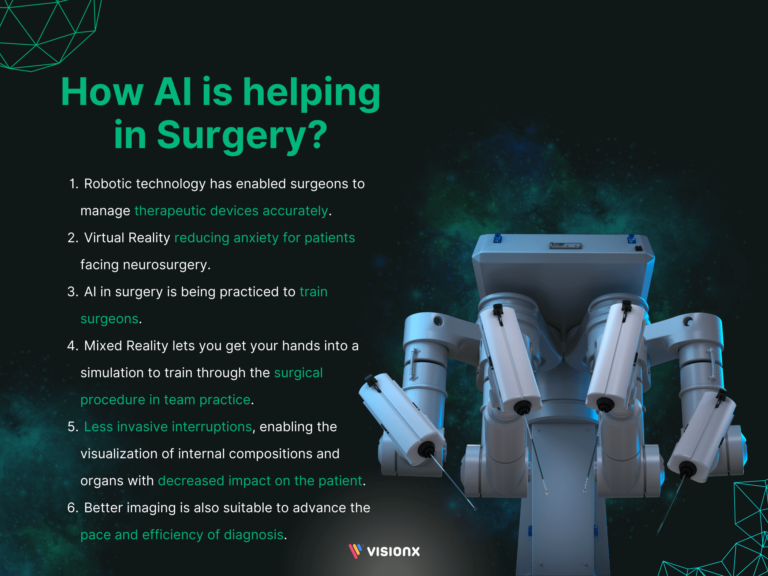 How is Mixed Reality Helping Surgeons?
Placed in a virtual environment of 3D, computer-generated graphics, neurosurgeons can take a round of an individual's brain, using the headset to observe a 3D illustration collected from computer-aided tomography CT scans of X-ray pictures. The surgeon can tell what they are watching as they examine the Virtual Reality representation of the brain.
Moreover, part of reassurance is that the neurosurgeon used ai in surgery to plan and prepare for the process. A regular magnetic resonance imaging scan can simply show a 2D slice of the brain. It doesn't tell the position of blood vessels. For instance, this varies with each person; it is critical to know where they are when planning the initial surgery. Virtual Reality head also helps put patients at comfort before an operation and helps surgeons prepare the most adequate surgical procedure.
Virtual Reality is also reducing anxiety for patients facing neurosurgery. Not only that, ai in surgery is being practiced to train surgeons. Many organizations have developed Virtual Reality software as a medical practice tool. One such eponymous process allows registrars, medical learners, and surgeons to efficiently familiarize themselves with a standard, straightforward system until it becomes intrinsic.
How are Medical Students and Surgeons Benefitting from Mixed Reality?
Students utilize commercially available Oculus headset and two controllers to follow hand movements; they mimic and stimulate parts of a system to familiarise themselves with the latest techniques. The system can transform and expedite features of a process, such as a joint replacement. Students can also set aside 30 to 40 minutes of Mixed Reality training, sometimes with various procedures.
Mixed Reality can assist surgeons in learning standard techniques and then throw in some oddities, for instance, a dysmorphic sacrum, to practice challenging anatomy. In recent research, where one group endured regular training, and another had 15 to 20 minutes of activity using Virtual Reality, the Virtual Reality group performed better in examinations that included skills such as handling tools, the flow of operation, and understanding of the particular procedure. Regular off-site training is time-consuming and expensive, so using different equipment or techniques will promote innovation and enhance skills.
In another research, it was seen that many resident doctors, despite studying at university for years, still could not operate because distinct methods and methods are continuously being introduced without sufficient time to learn them. Mixed Reality lets you get your hands into a simulation to train through the surgical procedure in team practice. Researches show that Mixed Reality immersive training increases performance by 230 percent compared with students who use text and video-based movement.
Imaging, Virtual Reality, and Augmented Reality
Imaging technology is core to achieving less invasive interruptions, enabling the visualization of internal compositions and organs with decreased impact on the patient. In the subsequent few years, advancements in imaging technology will deliver more helpful direction through a surgical procedure and increase precision.
Better imaging is also suitable to advance the pace and efficiency of diagnosis. If the direction of travel where imaging grows fully able to catch increasingly smaller structures and their functioning inside the body, an operation might move towards interruptions at the micro-level, such as the cellular level.
Simulation devices, such as Augmented Reality and Virtual Reality platforms, are now used by some surgeons to train and practice surgical procedures. These technologies can promote surgical training and results while regulating processes and democratizing the path to training.
How will VisionX Help the Surgeons in Safer Surgeries?
VisionX plans to develop applications that digitally analyze CT and MRI data of individual patients, automatically extract feature points of the organ shape with artificial intelligence, convert them into polygons, and view these organ shape coordinates as in Mixed Reality. It will help the surgeons to visualize the organs more precisely using ai in surgery process.