Healthcare mobile app development has become an important part of the medical industry. Due to enormous technological advancement, the healthcare industry has seen a massive transformation. Mobile healthcare app development has played a prominent role in the technical evolution of the healthcare sector especially in the past few years. During the pandemic, healthcare mobile app development companies have flourished and mobile apps have paved their way towards growth during the crisis period.
Many processes such as illness diagnosis, and the use of wearables and sensors that are ingestible make use of healthcare apps to aid patient treatment.
Ways Mobile Healthcare App Development Can Assist Patients:
After the pandemic, many industries saw digitization. Through digitization, the healthcare industry has been able to opt for an approach that is more patient-centered. Now patient health can be maintained with the help of mobile apps that provide a smooth user experience. These apps have many uses which include shopping for medicines, looking up qualified doctors, and acquiring information about a healthy lifestyle.
Here are a couple more reasons why healthcare mobile app development services are so important: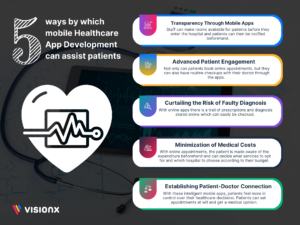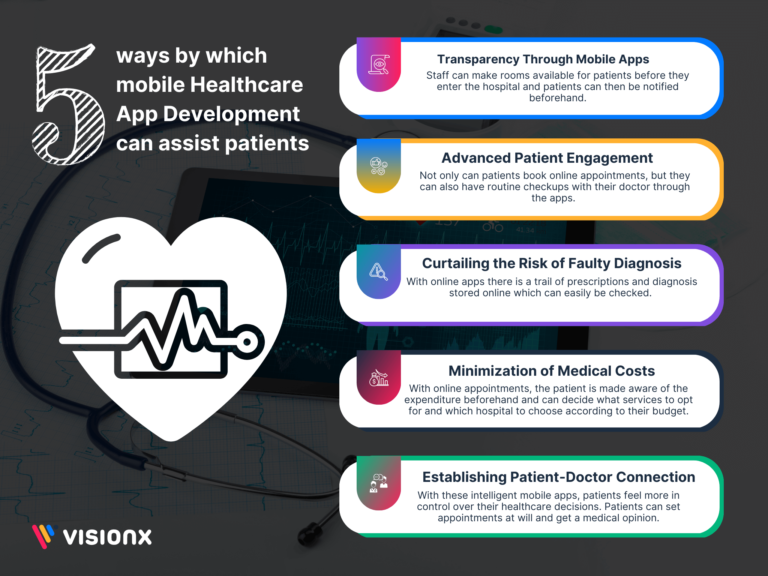 Transparency Through Mobile Apps
Long wait times usually lead to patient dissatisfaction. With the help of a healthcare app, not only can patients choose the healthcare facility with the least amount of wait time, but they can also be guided through the entire process. Through the healthcare app, staff can make rooms available for patients before they enter the hospital and patients can then be notified beforehand. Knowing the exact wait time and not having to wait more than that is possible through these apps and increases patient satisfaction.
Advanced Patient Engagement
Possibly, one of the biggest facilities that mobile apps can provide is accessing doctors from the comfort of your home. Not only can patients book online appointments, but they can also have routine checkups with their doctor through the apps. This ensures that the patients are getting expert medical advice remotely. This practice has been especially beneficial during the pandemic as it results in limited exposure. Especially because with the help of mobile imaging, patients can attach pictures and documents containing patient history so the doctor can do a more thorough analysis of patient symptoms. On the doctor's side of things, apps aid by allowing the medical professional to attach e-prescriptions in a soft-copy form that the patient can access from anywhere.
Moreover, these mobile apps also give regular reminders to patients regarding appointments. With the help of these apps. Patients can set reminders for medicines and the frequency with which they need to take them.
Curtailing the Risk of Faulty Diagnosis
Usually, some doctors can make faulty diagnoses that can lead to lives lost. However, with online apps, there is a trail of prescriptions and diagnoses stored online which can easily be checked. In case of a faulty diagnosis, the medical professional can be held responsible. Doctors can also store clinical notes and upload them to the cloud through the mobile application. These benefits are the reason why healthcare mobile app development services are increasingly in demand.
Minimization of Medical Costs
Mobile apps also help in the minimization of medical bills. When patients go to hospitals, their costs exceed as hospitals usually charge patients at will. With online appointments, the patient is made aware of the expenditure beforehand and can decide what services to opt for and which hospital to choose according to their budget.
Establishing Patient-Doctor Connection
It's very important for patients to establish trust with their doctor. For most patients, the process of recovery is an emotional one. To bridge this emotional gap, connectivity is important. With these intelligent mobile apps, patients feel more in control over their healthcare decisions. Patients can set appointments at will and get a medical opinion. Moreover, healthcare goal setting and monitoring provided by these apps act as a brilliant aiding tool for patients to get on the road to recovery.
Important Features in a Healthcare App:
Healthcare mobile app development companies need to make sure that healthcare apps have certain features that help ensure a smooth user experience. Some of them are as follows:
Easy Functionality
Patients require apps that help them save time when booking or scheduling appointments. Therefore, it is important to make sure that apps are easy to use with an appealing user interface. If patients find healthcare apps to be slow and hard to use, they would rather spend that time going to hospitals in person to book an appointment. That's why its ease of use is an important factor to consider during mobile healthcare app development.
Comprehensive Information
Healthcare apps need to provide patients with the right information. Patients need to learn more about their condition, the causes and the available opportunities. That's why it's important for healthcare applications to have the ability to walk patients through the massive pool of information about a specific condition.
Building a Community for Patients
The best healthcare apps have a community feature. This allows patients with similar conditions to have a platform to interact and share their experiences. Going through most illnesses is a traumatic experience and these online communities are often a safe space to share knowledge and comfort.
Integration
Healthcare apps that are easily integrated with gadgets like smartwatches or health trackers are beneficial to patients. In this way, they can access the information they want on the move.
Conclusion
Healthcare applications have a lot of benefits. They help patients easily book and schedule appointments, access to medical experts and be a part of the community. To get the best healthcare app, it is important to utilize the most efficient healthcare mobile app development services. These can be provided by VisionX, which ensures seamless mobile app development so that patients can have access to all the medical help at their fingertips.