The future of the Metaverse has already begun.
Pandemic caused due to covid-19 has immensely supercharged the adoption of metaverse across the world and has accelerated the transition towards digital world roughly by five years. It has now become a trillion-dollar industry for economic, social, and educational opportunities, The metaverse is continuously evolving and growing exponentially and is only set to do so in the coming years.
This year, businesses including several large technology companies, start-ups, venture funding and private equity firms have apportioned more than $120 billion to tap into the metaverse industry, almost double the $57 billion investments made in 2021, as per research firm McKinsey & Company. The market is generating billions of dollars in investments and has the capacity to generate up to $5 trillion in value by 2030.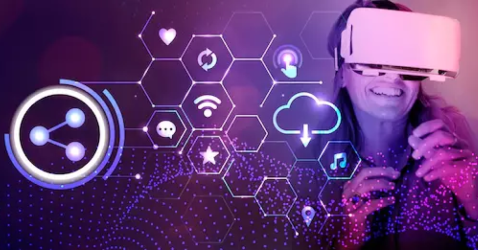 In case you're having trouble with Understanding the Metaverse World
The shared 3D virtual environment that exists online is known as the metaverse. It is a setting where individuals can interact and communicate with one another regardless of their actual whereabouts. People can also produce and distribute content there for living a digital life.
Metaverse strives to create a truly global digital realm, one that erases the issue of geography for interaction, that has been a hindrance to progress in the past. By facilitating communication and collaboration between people from all corners of the world, Metaverse is making it possible for people to work together in a more efficient and effective manner.
Nuts and Bolts of Metaverse
The Metaverse is created by the convergence of technologies including Virtual reality, Augmented Reality, Mixed reality, Blockchain and 5G. These technologies have the potential to change the way we interact with the world around us; it allows for users to explore and interact with a three-dimensional space that immerses them in a new world. By creating a Metaverse, we can take advantage of the unique abilities of these technologies to create a more engaging experience for users.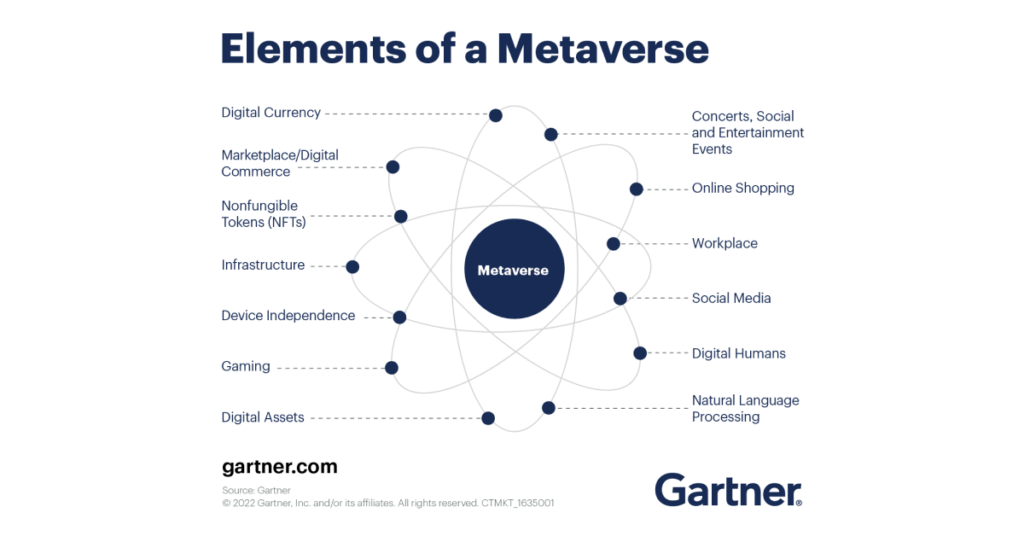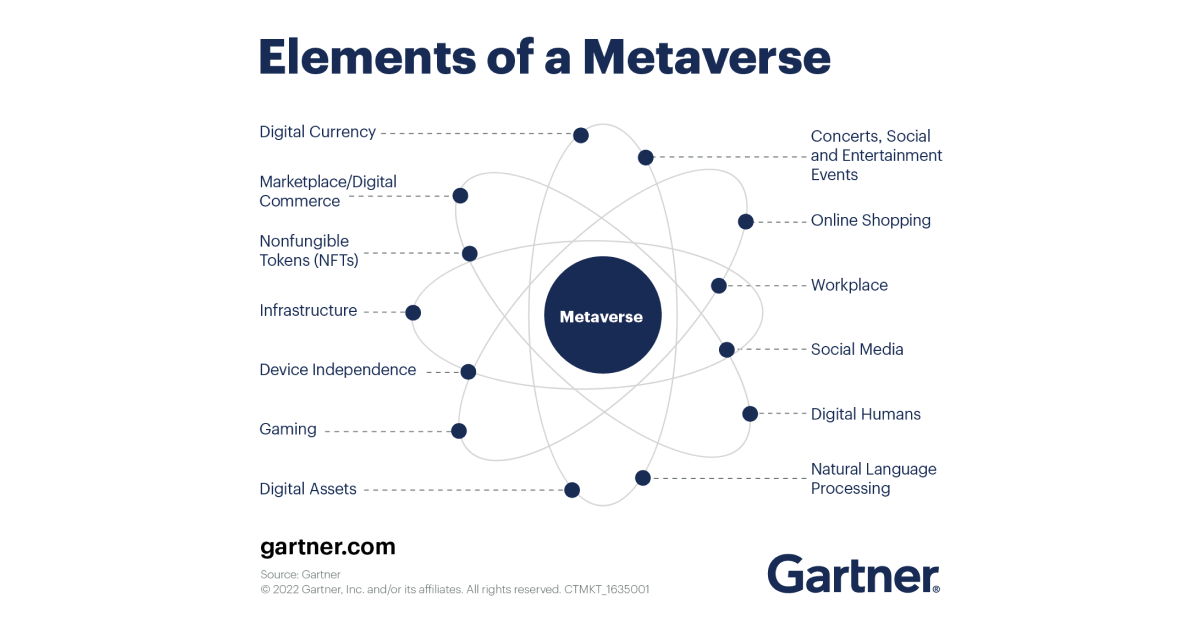 Integrating the Metaverse and E-commerce
The Metaverse is rapidly growing and redefining the digital landscape and has the potential to change the future of online commerce. According to McKinsey and Co. By 2030, metaverse could have a $2 trillion to $2.6 trillion economic effect on the E-commerce industry. This has already started to become apparent in the retail and E-commerce worlds, where it has improved the way businesses interact with their customers, as well as the way customers interact with businesses.
Over $4,100 was paid for a digital copy of the Gucci handbag that costs 4 times more than its actual cost in the physical world. Similarly, Nike has launched four patent and trademarks primarily consisting downloadable virtual products supported by Metaverse.
In addition, the Metaverse is changing the way businesses sell their products and services. Online stores can become more immersive for interactive experiences. Customers can drop products in real environment to see how they look, try on clothes, test drive cars, and explore properties before making a purchase.
A survey conducted by Shopkick stated that 70% of customers prefer to try, touch, and see products in-actual environment before purchasing them and are willing to overpay by 40% for buying the same product via a virtual channel. In addition to this snapchat quoted in its 2022 report that two-thirds of consumers are less likely to return products if they engage with them in AR before purchasing. This preference can be addressed and fulfilled in the metaverse, as AR, VR and 3D allow the same to happen, all from the comfort of customer's location. These accrued benefits help boost conversions and retain customers, thus revolutionizing the way they operate and provide "wow" experiences for customers.
How Metaverse helps boost Sales
Increased Revenue
According to a Forbes survey, brands may raise conversion rates by more than 40% when they give customers an engaging shopping experience. As a result, client trust increases, which eventually increases brand income.
Easy Shopping
Online purchasing has a very cold feeling about it. You cannot visualize how products would seem in your home from a screen. With the advent of the Metaverse, that will alter. The immersive experience of virtual stores will be on par with that of actual ones. When you view and touch the items you're purchasing, you'll experience being there. Thus, making the shopping experience easier and more interactive.
Interactive Experience for customers
It can be isolating to purchase online. You won't talk to the other customers or observe how they respond. The Metaverse can alter the experience in this way. You can interact with other users quite readily in the social virtual world. It becomes simple to watch how they respond and ask their friends for advice.
Wider customer base
To sell products and services to everyone on the planet, businesses do not need to have local operations in every nation as businesses can sell and buy products in the shared virtual experience of metaverse. According to a Google survey, 66% of customers want to use augmented reality software when making purchases, which will increase customer satisfaction and compel them to make purchases.
Reduced Return Rates
The number of returns decline since the metaverse provides the same immersive experience as in-store shopping through a virtual try-on app. Customers this way make a satisfied and confident purchase without having to return it afterwards.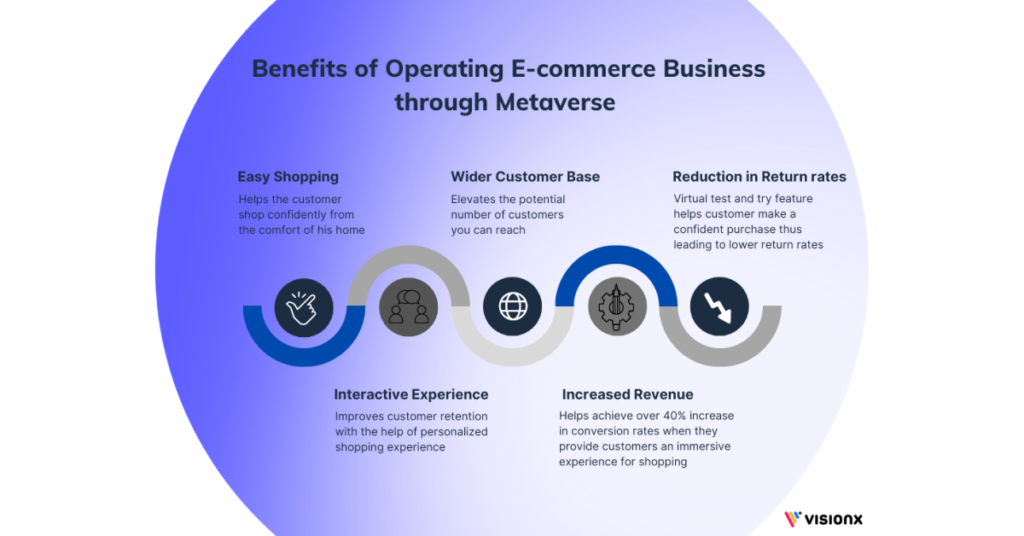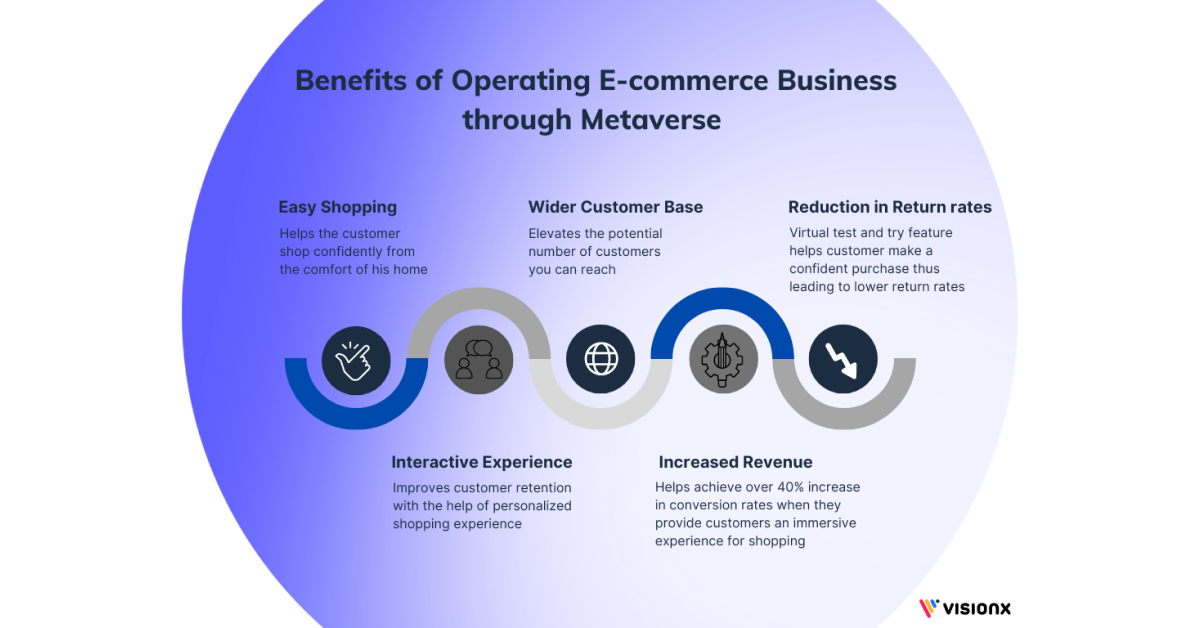 How can your business chip in to capture metaverse market
The vague idea that sparked Facebook's October 2021 rebranding as Meta has been a hot topic of conversation ever since. At that time, the corporation had made the announcement that it will spend $10 billion over the following year on technology to create the metaverse and investigate additional potential in the field.
Even while the corporate metaverse is still developing, the technology has the potential to transform a variety of industries, including E-Commerce, Retail and social networking, even real estate.
Every brand, from tiny enterprises to larger corporations, may enter the virtual world and gain from being present there. Here are the steps you can take to migrate your company to the metaverse if you want to be one of the pioneers in the sector.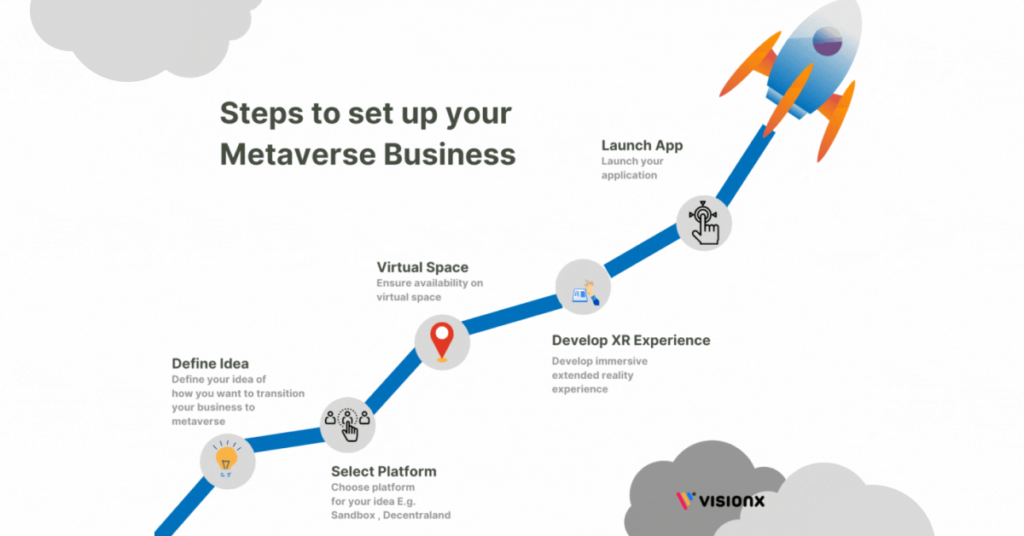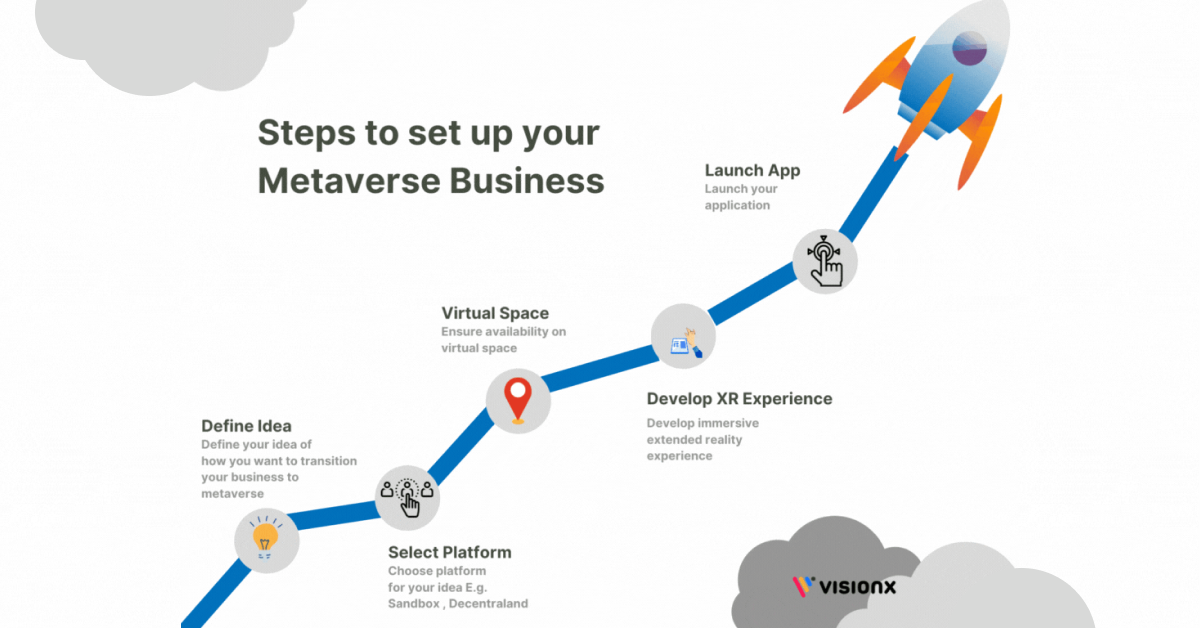 Final Thoughts
As the world becomes more digital, marketers must concentrate on developing emotionally engaging retail experiences. It also entails thinking of cunning ways to incorporate touch and feel into the metaverse shopping experience. Although this may initially appear like a difficult endeavor, it is nothing that hasn't been accomplished in the actual world.
It would be wise to investigate transitioning your retail business to metaverse and adapt to change rather than being left behind and losing an opportunity to boost sales. So, if you want to explore the metaverse cosmos as well, get in touch with a metaverse development company. They will guide you through the entire process for entering metaverse business and will ensure that you smoothly transition your business and enter this space.