Technology has become an indispensable aspect of our daily lives in today's fast-paced world. From smartphones to smart vehicles, it has made our lives more convenient and efficient. The fast-food industry is no exception. With the advent of drive-thru services like drive-through kiosks and menu boards, technology has taken center stage in elevating the customer experience and fostering loyalty.
As the competition in the fast-food industry continues to heat up, it has become increasingly important for businesses to explore ways to improve customer loyalty and drive-thru experience. Here are a few strategies that can help you achieve this goal.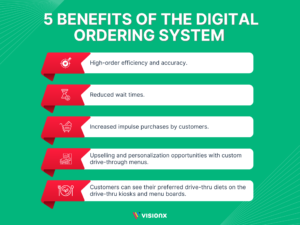 Drive-Thru Menu Boards & Kiosks
One way to streamline the drive-thru process is by implementing drive-thru kiosks and drive-thru menu boards to create a digital system for ordering. According to a study by QSR magazine, digital ordering systems can increase drive-thru sales by 30%. These systems allow customers to place orders and make payments via their smartphones or mobile devices by scanning QR codes. This eliminates the need for customers to wait in long lines and reduces the chances of errors in orders. According to a study by Columbia University, reducing wait times by just 7 seconds can increase market share for medium-sized QSRs by 1%  and for large chains by up to 3% increase in market share and a 15% increase in sales.
Drive-thru menu boards and kiosks can also help you track the progress of an order, so customers can be informed when their order is ready. Additionally, drive-thru order confirmation systems allow customers to pay for their orders in advance, so their orders can be prepared as soon as they arrive. Digital ordering systems save customer information such as their preferences, order history, and contact information to personalize their experience by showing special custom menu's catered to their liking and offering them targeted promotions. Here are some high-level benefits of the digital ordering system: 
High-order efficiency and accuracy

Reduced wait times

Increased impulse purchases by customers

Upselling and personalization opportunities with custom drive-through menus 

Customers can see their preferred drive-thru diets on the drive-thru kiosks and menu boards.
How will the customer experience this journey?
The car pulls up in the drive-thru and views the drive-thru menu board.

The car moves through the queue and reaches the digital menu board.

Customers can scan the QR code through the restaurant's app or the native camera to land into the app. 

The digital menu board is optimized according to the customer's purchase history and preferences (auto-ordering recurring orders can also optimize the flow).

Since the user scanned the code, the customer is given a loyalty reward in their account.
Customer Loyalty Program
A feature that quick-service restaurants should implement is a compelling customer loyalty program. These programs offer rewards and incentives to customers who make frequent purchases. For example, customers can earn points for every purchase they make, which can be redeemed for discounts or free items. These customer loyalty programs are an extended play, and their implementation is what drives business results. They encourage customers to return to the restaurant and make more purchases, increasing revenue for the business.
Some key loyalty program systems for QSR and drive-thru experiences are as follows:
Paid premium loyalty programs

Free loyalty programs

Customers pay a premium to get the restaurant's exclusive rewards and premium service.

Customers get a cashback or point reward against all purchases they make, which can be redeemed only at the same restaurant.

Reward systems similar to the famous Starbucks, where every dollar spent gives the customer 2-star points, which can be redeemed anywhere using the Starbucks Reward Visa.
Digital Signage
You can improve the drive-thru experience by using digital signage. According to a report by MarketsandMarkets, the digital signage market is expected to grow from $16.3 billion in 2021 to $27.8 billion by 2026. Digital signs can display menu items, prices, and promotions. Also, they provide customized drive-thru diets and menus based on the customer that pulls up in the drive-thru. They can also entertain customers while they wait by displaying news, weather, and other content. Furthermore, digital signs can provide real-time information on wait times and estimated order completion times so that customers can plan their visit accordingly.
How Can VisionX Help You Improve Customer Loyalty & Drive-Thru Experience?
VisionX empowers companies with modern technology to drive their growth and business. With a track record of success, including partnerships with Fortune 500 clients and some giants in the quick service industry, VisionX is committed to driving continued innovation and growth for its clients. Our area of expertise for quick service restaurants is focused on process and workflow management, customer loyalty systems, and drive-thru experience improvement.
Powered by AI, we help businesses find insights from CCTV footage, e.g., how much time your drive-thru orders take, what window operations can be improved, curbside pickup improvement, occupancy of your restaurant, and the demographics of occupants, which help you enhance your drive-through menus and customer service. Camera analytics allows your business to find that additional room for improvement that can generate business value for your restaurant. Talk to us today if you want to provide a seamless drive-thru experience to your customers to win their loyalty.