With the rise of innovative technologies in the last decade, IT departments have been pressed to act. As a result, the function of the software in organizations became increasingly important, and technology leaders began to have a greater impact on businesses. This is why many businesses are looking for the right software consultant to help them with their software requirements.
Software consulting is one of the many issues that businesses face to stay competitive. Software consulting services provide a wide range of solutions for a variety of issues that firms may face. The employment of software consulting services, on the other hand, can be costly. To save money on their initiatives, firms can take advantage of available discounts and special offers.
To understand, why firms should invest in an experienced software consultant, it's important to understand what they do.
What Is The Job Of Software Consultants?
A software consultant is an IT specialist who is engaged to provide advice on software strategy, design, development, and, in certain cases, implementation. They frequently work with software engineers to complete these duties. Senior developers with years of expertise and knowledge in the business are the most common candidates for this position.
As the title suggests, the primary function of these specialists is consulting, which entails providing professional advice. They conduct an impartial and objective 'health assessment' of your firm's existing business and technology plans. They identify technology-related flaws and places for improvement in corporate operations, then recommend solutions.
Benefits of Investing In a Software Consultant:
No matter how much experience you have with software development, there may come a point in your project when your abilities and knowledge are simply insufficient. Getting advice and guidance from a skilled consultant can be life-changing, whether you operate as a lone developer or as a member of a collective in an IT company or a product firm.
Employing a professional software consultant who understands how to properly develop a project can also boost the value of your final product significantly. Let's look at a few compelling reasons why you should invest in a consultant to help you complete your tasks effectively.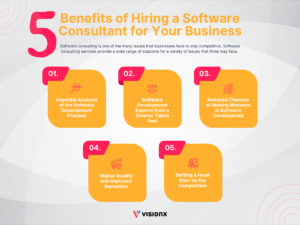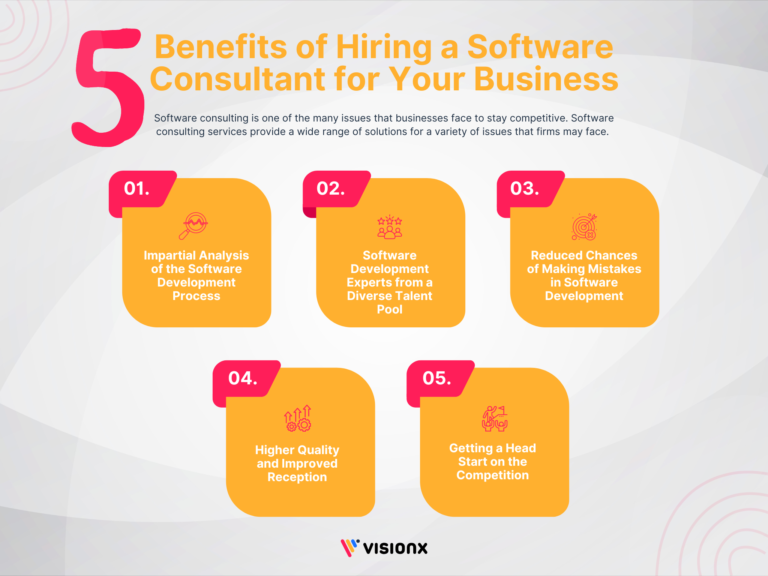 Impartial Analysis of the Software Development Process
When developers are personally involved in the development of an app or website, objective criticism is difficult to come by. Asking an expert third party to remark on your software development is the best method to acquire insight into how it is doing.
Software consultant may efficiently evaluate and counsel as to how your project should proceed for your team to make the best use of the resources available. An experienced consultant will be able to apply their expertise and talents to lead your app or website toward prosperity by providing insight through an outsider's perspective.
Higher Quality and Improved Reception
Another good reason to engage a software consultant is to boost the reception and sales of your finished product after it is out. There is no greater way to assure that your project is of high quality than for it to perform well in the market.
As a result, a software developer consultant may advise you on how to correctly launch the app or website and market it so that it generates the most buzz. This will help you recoup your developing expenses and make sure that the consultant has assisted your team in ways other than just writing code.
Reduced Chances of Making Mistakes in Software Development
Regardless of your experience in software development, you will make mistakes. These flaws can cost your company more than simply development time and money, as they can even harm your reputation.
With a software developer consultant on your team, however, those errors can be corrected well before the official launch. This will lower your development expenditures and free up time that you may spend on improving your code. Similarly, any errors corrected by your software developer consultant might be used as lessons for upcoming projects by your team.
Software Development Experts from a Diverse Talent Pool
Software consultants, by definition, must be as knowledgeable about software development as they are about project management. Furthermore, there are plenty of software development experts and efficient full-stack developers available to fulfil your consultant position.
Hiring a tech consultant will give you access to a diverse pool of individuals with a wide range of backgrounds, key competencies, and prior expertise. With top IT talent websites like VisionX, you may choose from a variety of experts to employ the ideal individual for the job.
Getting a Head Start on the Competition
Market innovations are nonstop and continue to emerge regularly. Some people will change their business structures, while others will squander assets with little to show for it. It is important to separate strong options that provide meaningful incentives from a plethora of alternatives that do not necessitate skill. Moreover, there is a need for constant analysis of the resources available.
Such an engaging approach to dealing with innovation can prove to be costly. Ultimately, your end goal requires you to remain focused on your project and provide quality products to your clientele. Working with software consultants allows you to gain access to cutting-edge developments without having to make a separate investment. That means you'll be able to maintain control over changes as they happen in the market.
Conclusion
In conclusion, you should invest in software consulting because businesses need someone who can evaluate their technology needs and offer the finest software solution to meet the company budget, objectives and aspirations in the long run.
The advantages are multiplied when you collaborate with a company like VisionX that gives you access to expert tech consultants. You'll benefit from the consistency of a professional team that will convert the experts' advice into a realistic and cost-effective practice that generates a significant return on investment if you choose the appropriate partner.
When deciding on this investment, it's important to understand whether or not you have the means and clear objectives to hire a software consultant. Once that's decided, you can build on a more thorough plan for your team.