Do you ever get random thoughts to change the layout of your apartment? Whether it is to decorate an apartment, make any changes to the interior, or some construction project that pops up in your mind. This change is essential and is not something to worry about. Now, with our app, we have made the process of renovating apartments much simpler and less time-consuming.
All you require is to know the room's exact dimensions, and for that, you need an instrument like a measurement tape to measure the size of the room. At that moment, it is unlikely that you have such a device at your fingertips. Putting together a floor plan of your home or business is never as easy as you'd hope it would be.
What should you do now? Finding a tape measure or eradicating the idea of changing the layout just because you did not have a measuring tape and could not make the floorplan -does not sound right. Furthermore, sometimes there are large spaces that are difficult to measure, even with a tape measure.
In this case, you will like the applications that will turn your smartphone into an actual measuring tape. Want to know the size of your room?
Easy! Now, with the Measure app by VisionX, you will not have to sit around idly searching for a measuring tape. You can pull out your iPhone and get a precise and straightforward estimation with this room measuring app. With everyone possessing a smartphone nowadays, having an application like this makes life relatively easier by putting a halt to many problems.
This application is a real innovation in the world of measurement services. Instead of a tape measure, you use a virtual ruler to make all the necessary measurements to create a 3D room plan.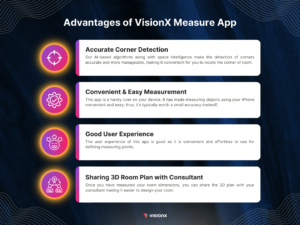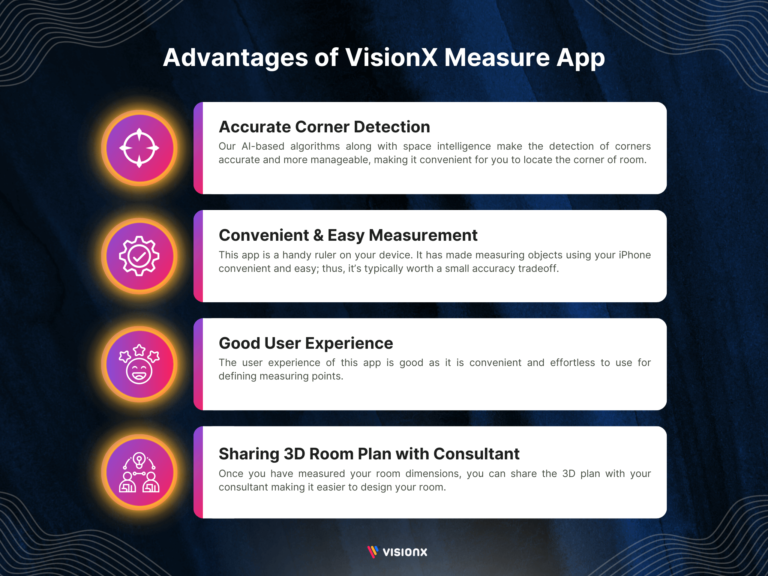 What's So Innovative About The Measure app?
First of all, of course, the application measures the perimeter and floor area, so you get a room plan. As a result of these measurements, you get a classic plan of the rooms. Secondly, the Measure app measures the height of walls and memorizes the location of windows and doors. Our proprietary Machine Learning algorithm uses AI deep learning and computer vision algorithms to detect doors and windows. You can label the windows and doors once our algorithm identifies them accurately. Besides the classical 2D plan in the form of a projection of a view from above, you can also view the 3D structure of your room. As soon as the measurements are taken, they are saved and can be sent quickly through email. This sanctions you to determine if and how comfortable this space is for you, allowing you to make the necessary amendments and how beneficial the changes would be.
Using space intelligence and augmented reality, the Measure app streamlines the entire process of generating dimensions, room plans, and material estimates to create and save floor plans for multiple projects using your iPhone.
How To Use The Measure App?
Having an intuitive interface, the measure app is straightforward and simple to use, and anyone can use this app with little or no hassle. Many AR apps need to "get their bearings" before starting using them, and the Measure app is no different. Upon launch, the app will ask you to point your phone all around the environment you're in. This process might take few seconds only.
It uses Artificial Intelligence and the device's camera to analyze the real world; you can choose any corner of the room, draw the pin and start drawing the line. Our specialized corner detection algorithms detect the room's corner. Once that's done, you need to draw points to complete the measurements of the room. However, Measure doesn't lock that endpoint in until you tell it to, by hitting the circular "+" button on the screen.
Once you've created the room's shape, the area will have a blue outline around it. It allows you to visualize the form and see measurements (height and width included). Furthermore, you can even take a screenshot to save for later—the app measures in inches by default. You can even adjust the height of your room plan and even add doors and windows to the model. All you have to do is point your camera to the door or window, and the algorithm will label the door or window accordingly.
That's not it. After you have completed the labeling, you will view the next screen. Here the 2D plan of your room will be available. Not only this, but you can view the 3D view with all the labeling of the rooms, windows, and others. The sharing facility of the app is something to look for. You can easily send ready-made room plans to anyone through email, leading to the perfect planning of your room.
It is also worth noting that the Measure App has excellent accuracy. So, you can safely continue your calculations without worrying that the data obtained will be far from reality. For now, Measure App is a great way to showcase AR and a generally reliable way to get estimated measurements.
Benefits of the Measure app
● Our AI-based algorithms along with space intelligence make the detection of corners accurate and more manageable, making it convenient for you to locate the corner of your room.
● This app is a handy ruler on your device. It has made measuring objects using your iPhone convenient and easy; thus, it's typically worth a small accuracy tradeoff.
● The user experience of this app is good as it is convenient and effortless to use for defining measuring points.
● Once you have measured your room dimensions, you can share the 3D plan with your consultant making it easier to design your room.
Measuring app by VisionX enables anyone to create floor plans easily. The popularity of this app has reached such a level that it has many users, and these users have designed multiple projects without any design or software skills. Its intelligent algorithm instantly digitizes floor plans. All you need to do is scan the floor and let the AI do its job.